Total Recall,
1987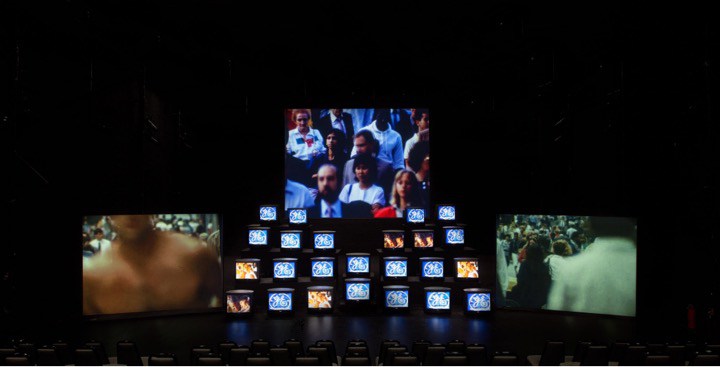 At the heart of Gretchen Bender's radical production in sculpture, mixed media, and video art is a profound interest in images and their circulation in mass media. Bender's methods of appropriation and interrogation of media culture associate her with other artists who question issues of representation and the impact of mass culture on the individual, including, among others, Dara Birnbaum, Judith Barry, Sherrie Levine, Cindy Sherman, Barbara Kruger, and Richard Prince. Bender traversed boundaries of television, gallery, theater, and nightclub to establish a space that simultaneously entertains and critiques the monolithic role of constructed imagery. Named after the Paul Verhoeven film,
Total Recall
is a monumental installation. The 18-minute "electronic theater," as the artist described it, sets disparate visual material including CGI animation, network news interstitials, corporate logos, and Hollywood film clips to a pulsating soundtrack by composer Stuart Argabright. Like much of Bender's work,
Total Recall
evokes the political climate of the time, including Reagan-era military initiatives, cold war politics, and the civil war in El Salvador as represented by Hollywood. Bender's approach—appropriating and recontextualizing the images as a visual assault deters the audience from passive viewing and instead exposes commercial television for its manipulative operation and rapid consumption of contemporary culture.
More Acquisitions
Cameron Rowland, 2017

Maren Hassinger, 2019